*PROJECT 142 CONCERT* – Thursday – September 6, 2018 – ALESSANDRO VENA U.S. Tour / New York City Concert – DiMenna Center (Benzaquen Hall) – NYC – 8:00p.m.
September 6, 2018 @ 8:00 pm

-

10:00 pm

$10.00 – $15.00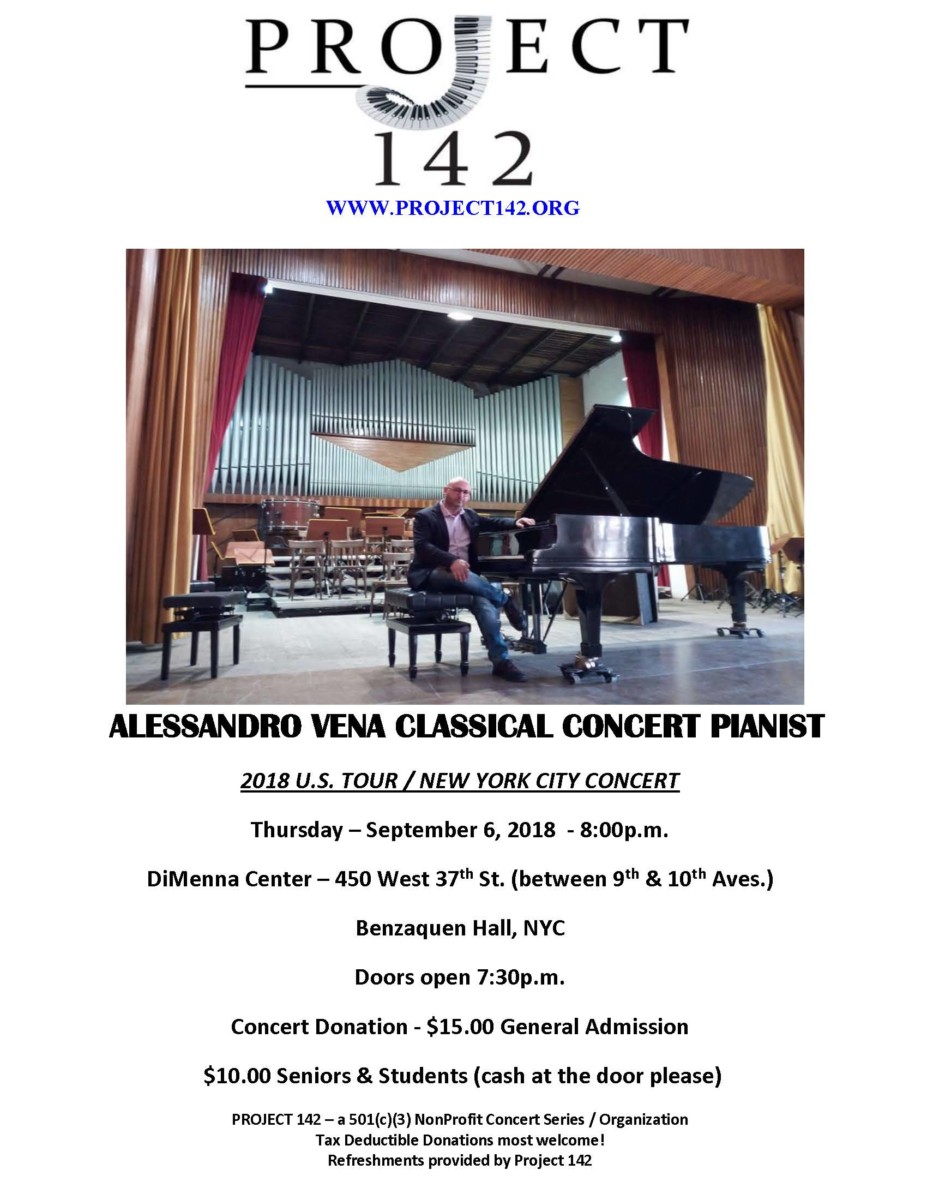 *PROJECT 142 CONCERT*
Thursday – September 6, 2018 – 8:00p.m. – DiMenna Center – NYC – ALESSANDRO VENA U.S. Tour / New York City Concert – 450 West 37th St. (between 9th & 10th Aves.) – Benzaquen Hall (elevator to 1st floor) – NYC 10018 – www.dimennacenter.org .
Doors open 7:30p.m.
Concert – 8:00p.m. – 10:00p.m.
Alessandro Vena – Classical Concert Pianist
Program:
Frederic Chopin – Davide Zannoni – Giuseppe Lupis – Franz Liszt – Claude Debussy – Sergei Rachmaninoff
ALESSANDRO VENA, Classical Concert Pianist who resides in Italy, will be making appearances in the U.S. on his late Summer / early Fall 2018 U.S. Tour. Project 142 Concert Series is very proud & thrilled to be hosting Alessandro's New York City Concert Thursday September 6, 2018 at 8:00p.m. A Press Release for Alessandro's U.S. Tour –
"Impeccable and implacable octaves, and again, Alessandro Vena in his CD brings Bach and Busoni down from the pedestal of history, proving convincing in terms of virtuosity and style….' quoted from MUSIC the most important magazine on international music discography in an exclusive interview with Alessandro Vena dedicating the cover of MUSIC in June 2012 to Alessandro together with the great Franco Zeffirelli. After studying piano, harpsichord and piano teaching, Alessandro continued his studies at the Rubenstein Academy in Rome, Italy with the exceptional pianists / Professors Carlo Grante and Saha Bajcic (Professor at the Moscow Conservatory). Alessandro began a concert performing career at that point in many Italian and European / global cities. Alessandro performs a repertoire that ranges from baroque to contemporary with a predisposition for the romantic composers and Chopin in particular. Alessandro has recorded works by the following composers – Chopin, Bach, Bach-Busoni (which will be performed in this 2018 U.S. Tour), Scarlatti, Mozart, Franck, Debussy, Liszt, Schumann, Rota, Pirrone, Shoenberg, Sibelius, Shostakovich, Paus, Lupis and Davide Zannoni (a New York City based composer which a selection of Davide's will be performed in the 2018 U.S. Tour). Alessandro's international concert performing has taken him to concerts in Italy, Europe and the U.S. As a solo pianist in 2016, Alessandro performed recitals for prestigious Stagioni accompanied by Symphony Orchestras, the Ciaikowkij Russian State Philharmonic Symphony Orchestra and the Bulgarian State Philharmonic Orchestra of Vidin. By invitation as solo piano recitals, Alessandro has performed Rome University Lumsa, Teatro Marcello, Sala Baldini, Valdese University, Villa Torloni, Perugia University of Foreigners, Foligno Teatro San Domenico, Spoleto Festival of the Two Worlds, Taomina Festival, Marsala Teatro Sollima, Naples Foundation Ciccolini, Palermo State University, IIC in Los Angeles, National Opera Center in New York City, Teatro Colon in Buenos Aries, the Ohrid Choir Festival (Macedonian), Kino Babilon Berlin, Centennial of Assumption (Paraguay), Center Culturel Belgium. In 2010, Alessandro received the prestigious "A Life of Music" Award, honored by the Sovereign Order of Malta and awarded "Honorary" by the FAI (Italian Environment Fund). RADIO RAI 3 on "First Movement" has presented many of Alessandro's recordings. PIANO SOLO magazine reviewed Alessandro's last CD as 5 stars!!
CONCERT PROGRAM:
Claude Debussy – Pour le Piano (Prelude – Sarabande – Toccata)
Claude Debussy – Clair de Lune
Giuseppe Lupis – Approximately Five Preludes
Davide Zannoni – Flexible Desires (a NYC Composer) – www.davidezannoni.com
Peter Fribbins – Nocturne
Frederic Chopin – Nocturne op. 9 no. 1
Frederic Chopin – Nocturne opera postuma
Frederic Chopin – Waltz opera postuma
Frederic Chopin – Polonaise op. 53 "Heroic"
Frederic Chopin – Etude op. 10 no. 12
Franz Liszt – Transcendental etude no. 1
Sergei Rachmaninoff – Etude-tableaux op. 33 no. 7
U.S. Tour concerts:
Sept. 2, 2018 – Campbellsville University, Kentucky
Sept. 4, 2018 – The Loretto Motherhouse Nerinx, Kentucky
Sept. 7, 2018 – Cook Valley Estates, Grand Rapids Michigan
Concert Donation –
$15.00 General Admission & $10.00 Seniors / Students (cash at the door please)
Refreshments provided by Project 142
Street parking after 7:00p.m.
NEW SUBWAY STOP for DiMenna Center area – 7 Line – Hudson Yards Stop
(West 34th St. & 11th Ave.) – www.mta.info
Project 142 Concert Series is a 501 (c)(3) Non Profit Organization
ALL DONATIONS tax deductible – www.project142.org