*PROJECT 142 CONCERT* – Saturday – April 13, 2019 – WORLD PIANO SUMMIT: LUIZ SIMAS / STEVE SANDBERG / ARMEN DONELIAN CONCERT – DiMenna Center (Benzaquen Hall) – NYC – 8:00p.m.
April 13 @ 8:00 pm

-

10:00 pm

$20.00 – $25.00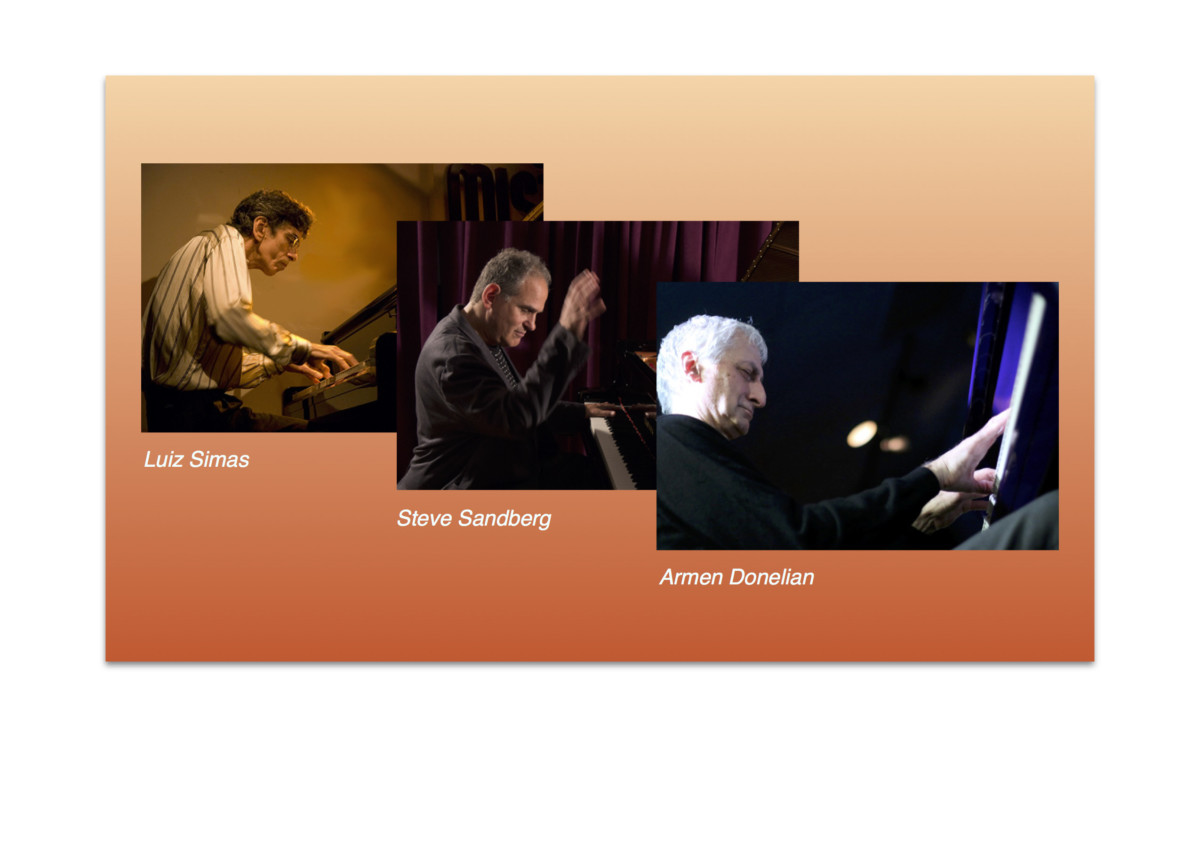 *PROJECT 142 CONCERT*
www.project142.org
Saturday – April 13, 2019 – 8:00p.m. – DiMenna Center – NYC – "WORLD PIANO SUMMIT": LUIZ SIMAS / STEVE SANDBERG / ARMEN DONELIAN CONCERT – 450 West 37th St. (between 9th & 10th Aves.) – Benzaquen Hall (elevator to 1st floor) – 10018 – www.dimennacenter.org .
Doors open 7:30p.m.
Concert – 8:00p.m. – 10:00p.m.
Luiz Simas – Pianist & Composer – www.luizsimas.com
Steve Sandberg – Pianist & Composer – www.stevesandbergmusic.com
Armen Donelian – Pianist & Composer – www.armendonelian.com
Concert Title: "WORLD PIANO SUMMIT"
An extraordinary evening of superb piano artistry with three world renowned pianists performing in three different styles: Luiz Simas (Brazilian), Steve Sandberg (Classical & World Classical) & Armen Donelian (Armenian & Jazz). These three pianists will feature both known pieces as well as their own original compositions.
LUIZ SIMAS – Rio-born Brazilian composer / singer/ pianist has been living in New York since 1989. Luiz has led original groups in festivals & clubs in the U.S., Europe & in Brazil. Luiz's voice & music have warmed major venues including Birdland Jazz Club, the Weill Recital Hall at Carnegie Hall, the Metropolitan Room & the Iridium in NYC, the Gamle Logen Hall in Oslo, the Pheasantry in London, the Philharmonia Hall in Odessa & Sala Cecilia Meireles in Rio. Luiz program includes his own infectious original compositions & improvisations, as well as his own brilliant arrangements of beloved Brazilian music standards by some of the greatest Brazilian composers. His piano pieces feature new interpretations of several Brazilian genres, such as choro, bossa nova, samba & baiao. "Luiz Simas is not only a wonderful musician, singer, & composer, he is an engaging performer who draws his audience into his witty, joyful, sensuous musical world. Simas epitomizes the fantasies we non-Brazilian have about that wonderful country, and with him, we all get to be a Brazilian, at least for a couple of hours!" Judy Carmichael (pianist)
STEVE SANDBERG – is an eclectic musician with a lifetime of experience in many worlds of music. Steve is a three-time Emmy-nominated composer whose scoring, songwriting & musical direction for "Dora The Explorer", "Go Diego, Go!", & "Doran and Friends" helped make these shows landmarks they are in children's television worldwide. Steve began classical piano studies at age 4 & won a BMI composers award before attending Yale University, where Steve majored in musical theory & composition. At Yale, his studies with noted African art theorist Robert Farris Thompson inspired him to immerse himself in the world of Afro-Caribbean music. Upon returning to NYC, Steve played with, arranged & composed for some of the great salsa artists of the 1970's & 1980's, including Celia Cruz, Ruben Blades & Daniel Ponce (featurinh Tito Puente). A highlight of this period was an appearance in Rio & Sao Paolo opening for the legendary Joao Gilberto in a duo with vocalist Bebel Gilberto. Steve also toured with David Byrne ("Rei Momo") as keyboardist & vocalist Steve has conducted & arranged on Broadway (Chronicle of a Death Foretold) & for many regional / Off-Broadway theatres, including the New York Shakespeare Festival. Steve has performed improvised electronic multimedia concerts at the Knitting Factory, The Guggenheim Museum, Le Petit Versailles & the Stone (featuring his unique voice on the breath-controlled Yamaha VL70 synthesizer). These concerts were heavily influenced by his studies of North Indian raga singing. Steve's latest project is the Steve Sandberg Quartet. SSQ concerts begin with performances from the classical solo piano repertoire & continue with the quartet's soaring improvisations on original compositions that draw from European, African, Latin, Balkan & Indian traditions. Dan Bilawsky (All About Jazz) called the Quartet's first CD release on Artistshare records "A breathtaking composite of world music, jazz & classical expressions…an exultant music that's incredibly personal & precise in its direction, yet universal in its language & ability to connect."
ARMEN DONELIAN – In 25 countries, Armen has performed & recorded since 1975 as a featured solo pianist, bandleader & with Jazz legends including Sonny Rollins, Chet Baker, Paquito D'Rivera, Mongo Santamaria, David Liebnan & Billy Harper. Armen has appeared in numerous international concert & club venues. A composer of 100 works, Armen has produced thirteen acclaimed recordings for the Sunnyside, Playscape, Odin & Atlas labels. Armen's 2014 release, "Sayat-Nova: Songs Of My Ancestors" (Sunnyside), is a two-CD set of solo piano & trio vignettes with Bassist David Clark & Drummer George Schuller. In it, Armen transforms 18th Century Armenian folks songs through the lens of his contemporary Jazz mastery, offering "Countless exquisite moments" (DownBeat), & Armen's piano arrangements appeared in 2018 in "Sayat-Nova Ancestral Songs" published by Edition Gruber. Armen Donelian is a six-time Jazz Performance Fellow of the National Endowment for the Arts, & a Fulbright Senior Scholar & Specialist in Armenia, Finland, Greece, Sweden & Switzerland. A faculty member at New School Jazz (1986-present) & William Patterson University (1993-2016), Armen has lectured at many top schools throughout the world. Armen's books "Training The Ear", a two-volume book/ CD set, & "Whole Notes: A Piano Masterclass" are both published by Schott Music. A graduate of the Westchester Conservatory of Music & Columbia University, Armen has studied privately with Michael Pollon (piano), Carl Bamberger (conducting), Ludmila Ulehla (harmonic analysis), Harold Seletsky (Schoenberg theory & counterpoint) & Richie Beirach (jazz piano). As a teenager, Armen was mentored in Jazz by guitarist Arthur Ryerson, Sr. who played with Louis Armstrong, Paul Whiteman & Jack Teagarden. "Brings a serene sense of dignity and elegance to every measure" (Berkshire Eagle). "A pianist with a crystalline touch but a penchant for avant gardism" (New York Times). "A poetic composer" (Swing Journal). "But don't underestimate his ability to swing hard and throw punches" (Philadelphia Weekly).
Concert Donation –
$25.00 General Admission & $20.00 Seniors / Students / Musicians (cash at the door please)
Street parking after 7:00p.m.
Refreshments provided by Project 142
Subway Stop for DiMenna Center – 7 Line – Hudson Yards
(West 34th St. & 11th Ave.) – www.mta.info
Project 142 Concert Series is a 501 (c)(3) Non Profit Organization – ALL DONATIONS Tax Deductible –
Online via www.project142.org/donation-page-new
www.project142.org