Saturday – March 5th – Lana Genc New York / U.S. Premiere Piano Recital – DiMenna Center (Cary Hall) – NYC – 7:00p.
March 5, 2016 @ 7:00 pm

-

9:00 pm

$20.00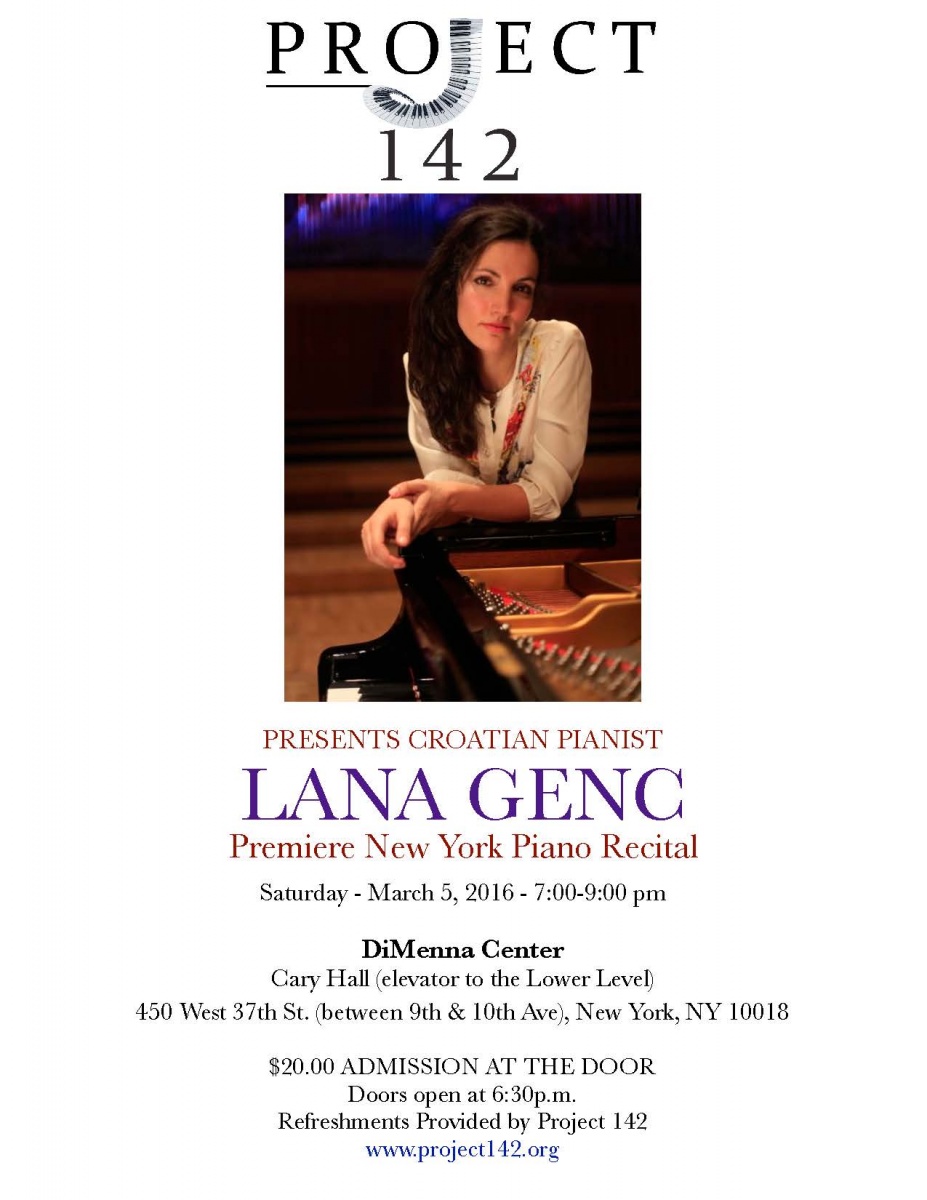 Saturday – March 5, 2016 – 7:00p. – 9:00p. – DiMenna Center For Classical Music – NYC – LANA GENC NEW YORK / U.S. PREMIERE PIANO RECITAL – 450 West 37th St. (between 9th & 10th Aves. – on 10th Ave.) – Cary Hall (elevator to lower floor) – 10018 – www.oslmusic.org. Doors open @ 6:30p.
Lana Genc – visiting Croatian born pianist studied at the Music Academy in Zagreb, Croatia, University of Music & Performing Arts in Vienna, Austria & Academy of Santa Cecilia in Bergamo, Italy. Lana regularly performs throughout her native country as a solo artist, major orchestras & in chamber. In 1997, Lana recorded her debut CD, which included the piece "Tonal Sonata" by the Croatian contemporary composer Zeljko Brkanovic, won the prestigious discographic music award, The Porin. At age 17, Lana traveled to Japan with her first recital tour which has led to return tours in Japan. Lana has performed recitals in Vienna (Bosendorfer – Saal), Cyprus, Bulgaria (European Festival of Classical Music of Classic FM Radio in Sofia), Holland, Russia, France, Solvenia / Bosnia / Herzegovina & Germany. She toured Chile performing in 2005.
Lana's 2016 U.S. Premiere Tour starts with performances in Washington D.C., Baltimore & Virginia concluding in NYC with this concert on March 5th.
Doors open @ 6:30p.
$20.00 Concert Charge at the door
Refreshments provided by Project 142
PROGRAM:
F. Chopin: Prelude in C minor
Nocturne in E flat Major op. 55, No. 2
L. van Beethoven: Sonata No. 32 in C minor, op. 111
Maetoso. Allegro con brio ed appassionato
Arietta. Adagio molto, semplice(e)cantabile
B. Papandopulo: Study for piano "Vivacissimo"
J.S. Bach: English Suite No. 5 in E minor, BWV 810
Prelude – Allemande – Courante – Sarabande –
Passepied I – Passepied II – Gigue
A. Scriabin: Sonata No. 4 in F-sharp major, op. 30
Andante – Prestissimo volcando